Preparing and cooking artichokes is not as intimidating as it seems. They can be steamed, boiled, grilled, roasted, or sautéed. You can also prepare them stuffed or breaded, adding spices and other seasonings for an extra burst of flavor. Keep in mind that both the leaves and the heart can be eaten. Once cooked, the outer leaves can be pulled off and dipped in sauce. Once the leaves are removed, carefully spoon out the fuzzy substance called the choke until you reach the heart. You can then scoop out the heart to eat alone or atop pizza or salad.

The purple variety of this popular vegetable does not lose its vibrant color when cooked and is prized for having a slightly more pronounced nutty flavor than its green globe cousin.The dark purple adds an unexpected splash of color when served.
Commodity: Artichokes
Category: Cooking Vegetables
Characteristics: Purple, spiky leaves
Appearance: Similar to green artichoke but purple
Flesh: Purple outside, greenish-yellow inside.
Flavor: Nutty and rich, even more so than green artichoke
Size: Same as green, about softball size or larger
Color: Purple outside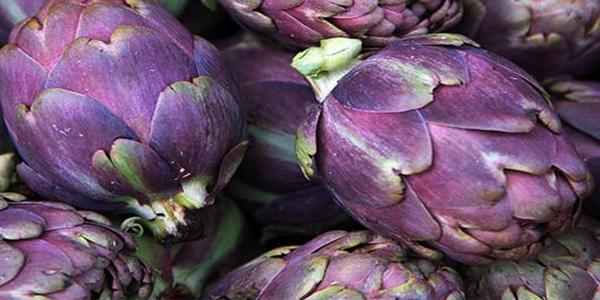 Baby artichokes are available in the early spring.
This is a special item and may require additional time for fulfillment
Packs are packaged in various size packs selected by the customer. 
100% natural fresh with no salt or preservatives added

Baby artichokes are fun because with just a little trimming, you can eat the whole thing. Its petite size comes from being picked from the lower part of the plant. Baby artichokes are also easy to prepare, cook and eat because they haven't developed the fuzzy portion of the choke in the center. They're easier to prepare than globe artichokes.
Baby artichokes are roughly two inches in diameter when harvested. Their tender firm leaves form a compact floret with pistachio and lime green tones throughout. A raw Baby artichoke is crisp, slightly bitter, tonic and nutty. When cooked, Baby artichokes develop flavors of toasted nuts, dry grass and caramel.
Baby artichokes may be braised, steamed, roasted, boiled, baked, marinated and hearts preserved in oil. When slow-cooked, such as roasting, braising and poaching, artichokes become tender, more flavorful and they absorb the savory flavors around them most optimally. Artichokes pair well with both fatty ingredients and high acid ingredients.

LONG STEM
PURPLE ARTICHOKES
Don't be intimidated by these unique vegetables. Long-Stem artichokes can be used the same way a regular artichoke, but provide more inches of stem that is an extension of the heart inside. Long-Stem artichokes are also as much a visual delight as they are a tasty treat. In fact, these beautiful artichokes are special. Purple artichokes are harvested on the stem, which can range from 18 to 22 inches in length. The stem is thick and offers a flavor similar to the artichoke heart.
Simply trim the bottom of the stem about a half of an inch. Peel the long stem of the artichoke with a vegetable peeler until you reach the pale green flesh inside. Then, choose one of the many standard ways to cook artichokes.
You can also cut the stem into pieces or bite-size coins and can cook them the same way you would cook with artichoke hearts. You can even grill the stems on an indoor or outdoor grill or use them in stir-fry, salads and stews! Remember, these stems are not only tender and delicious, but they are full of fiber, antioxidants and low in calories. Lastly, remember the stems are a good source of fiber and antioxidants while being a low-calorie food.
To store uncooked artichokes, slice a dime width off of the stem, sprinkle the stem end with water and refrigerate in an airtight plastic bag. It's best to cook artichokes within five to seven days after purchasing.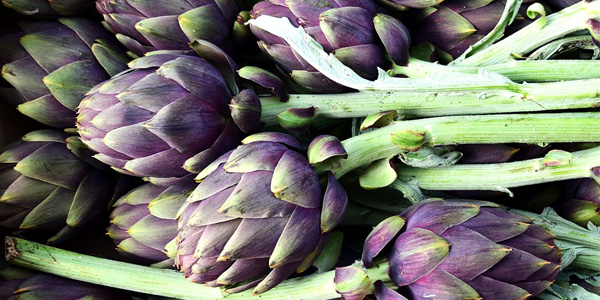 Purple Artichokes on the stem are available in the early spring.
This is a special item and may require additional time for fulfillment.
Packs are packaged in various size packs selected by the customer. 
100% natural fresh with no salt or preservatives added